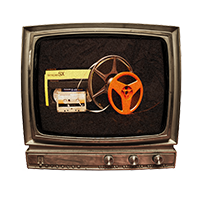 Film and Video Transfer
At VidFilm our studio includes many systems that support a wide range of redundant analogue and digital recordings, including rare formats that haven't been used commercially in many years.
We can transfer content from legacy media through to digital files, or alternatively to other media formats. Have a tape of film reel that no one else can find the right equipment for? Don't hesitate to give us a call.
Transfer vintage formats
Formats we can handle include: 1 inch C format, 1/2 inch EIAJ format, 1/4 inch AKAI format, 1.4 inch audio cassette, micro audio cassette, audio cartridge (8-track and professional), digital betacam, SX betacam, SP betacam, standard betacam, BVU SP u-matic, BVU u-matic, low-band u-matic, super VHS, standard VHS (12 hour long play), VHS C (super and standard), digital 8 mm, hi 8 mm, standard 8 mm, Philips catridge format (standard and long-play, EIAJ catridge format, laser disc format, DVD, VCD, LP and 45 RPM vinyl records.
Costs are charged on an hourly rate and can be negotiated to suit your needs.
Note that some old tapes and film can degrade over time. While we are broadcast professionals and take care with our work, we cannot take responsibility for old tapes and film. Feel free to call us to discuss your needs.